When you are trying to sell your home, the professional guidance of a REALTOR® is an absolute necessity. But, unfortunately many people think all REALTORS® are the same. No single REALTOR® can hope to match the dedication and results that our team of professionals produces. So let us tell you a bit more about the Manning Realty Team and let you decide for yourself.

An individual REALTOR® needs to wear many hats. They need to be proficient in sales, marketing, customer service, administration, follow-up and a number of other skills. Not to mention being out and about showing homes to clients and attending settlements and inspections. All of this needs to be done while keeping up to date on industry changes, market statistics, homes for sale and many other items that are crucial in this business.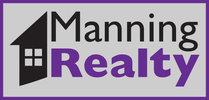 Manning Realty & Lloyd Kent have adopted a different approach that puts the client in the hands of not just one agent but rather a team of professionals. I do handle each contract and negotiation from start to finish, and while I stay in constant communication with my clients, each member of our Manning Realty team has a specific role in the selling process that they specialize in and do better than anyone else.

When you choose to list your home with Lloyd Kent and Manning Realty, I will place signs, take photos, write descriptions and put our customized marketing plan into place to sell your home for the most money possible. We are constantly maintaining and tweaking things to get you the most exposure to potential buyers and their agents. I do this for well over 50 homes per year. Most REALTORS® haven't sold that many in their entire career!

I will have all of the marketing in place, connect an electronic lockbox or code lock box on the door, keep brochure boxes filled, assist with contractor access and even keep an eye on the home if it is vacant or if you are out of town.

Once I have successfully worked with you to negotiate a contract, I handle correspondence and scheduling between inspectors, appraisers, agents, clients, lenders and title companies to make sure that the closing goes smoothly and on schedule. In the past 3 years alone, I have handled well over 125 closings. Talk about experience!

One point that is seldom addressed is, what happens if challenges come up in the process? In real estate, as in life, nothing goes exactly according to plan 100% of the time. Our clients know and appreciate that when the train looks like it might come off the tracks they are represented by agents that have seen it all and know just what to do to put things right.

Everyone on our team has one main goal; to get you the most money possible for your home and give you a customer service experience that is unrivaled. We provide the personal attention they want but also deliver the unmatched service that only a team of professionals can provide.

Still not sure? Hopefully you will agree that numbers don't lie. Last year, we netted our sellers 2.5% more for their homes than the average Fayetteville North Carolina Area REALTOR®. And guess what? Our homes are also on the market for less than half the average time. Give us a call so we can show you why we are the area's fastest growing and ranked the #2 REALTOR® in the Fayetteville area. You will be glad you did.